Welcome to Superior Sheet Metal's Web Site
Superior Sheet Metal, a Veteran-owned company, is a fabricator of high quality spiral and rectangular duct work and fittings for the HVAC Industry, servicing the New England area; Superior fabricates single and double-wall duct and fittings as well as specialty items.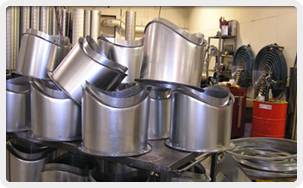 Ductwork may be fabricated from any of the following:
G90 Galvanized steel
Galvaneal
Stainless Steel
Aluminum
Cold Rolled steel
PCD coated steel
Superior Sheet Metal Offers:
High quality products
Quick turn around
On time delivery throughout New England
Use of material lifting baskets
Free quotes and estimating assistance

Superior Sheet Metal, operating from a 25,000 square foot state of the art shop, can provide the HVAC contractor with an excellent source for fabricated duct work and related items. Superior Sheet Metal is run and managed by people who have been in the trade for years, as installers, shop workers, shop foremen and managers. We understand the business, and what it takes to provide first class product and service.

Superior Sheet Metal is here for you, the contractor; to assist in any way to help get you the quality product you need, WHEN YOU NEED IT, where you need it. We program most of our customers right into our Nextel system for immediate communication, great for last minute changes.